This may look like an ordinary logo,
but it is actually the Microsoft Office Button. It is located in the top left corner of the Microsoft Word, PowerPoint and Excel toolbars. When you click on the button, you will see a dropdown menu that looks like this: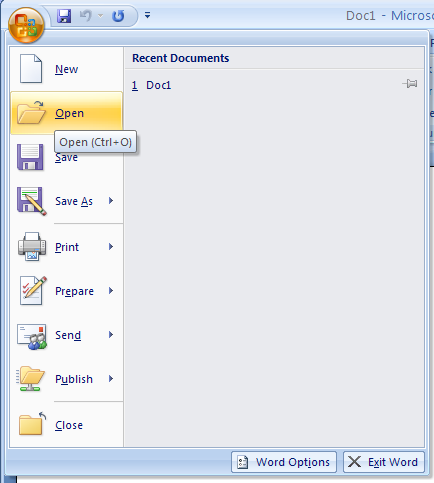 From this menu you can choose a variety of basic functions, such as opening a new document,saving, or printing.

This guide was created to give you a very basic introduction to working with three Microsoft Office products you might be using to create documents and presentations for your course work: Word, Excel, and PowerPoint.
Word is - no surprises here - a word processing program. Excel is a spreadsheet tool, and PowerPoint is used to create slide presentations.
Each of these products comes with built in support, which can be accessed by clicking on the round blue question mark icon in the upper right corner of the toolbar (or "Ribbon", as it is referred to in Microsoft Office 2007 products). Beyond that, there are oodles of online tutorials designed to get you up and running with these programs in no time.
To make things as easy as possible for you (and who doesn't like easy?) we've rounded up hints, tips and tutorials for each of the programs. Click on one of the tabs above, and you'll be on your way...